Meet David:
I was watching the sunset fade away into a restful weekend, and as I got up and walked home in the darkness, a voice beside me broke the silence. I turned to see a short Central American man walking alongside me. David introduced himself and we stopped to have a conversation together. I helped guide our conversation towards spiritual topics he seemed interested in, and I could tell that he had Christianity in his background. Immediately he started opening up to me about his past and weaved in some bible stories that I recognized but I think got mixed with a couple of others, either in the telling or translation. I helped guide him to a deeper understanding of the meaning of these stories and I was able to share some of my own. I felt inspired to share with him a deeper understanding of why Jesus had to come to this earth and how He wants to save us for eternity. Relief and joy-filled his heart as he began to grasp that there was hope for him. I prayed with him and then I asked some more about his past.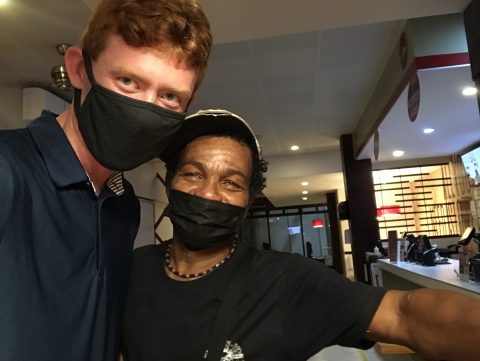 I learned that David is in his mid-50s and he started opening up to me about how for the last 9 years he had been in prison. Now that he was out, he wanted a better life for himself. It was touching to hear his story and I was able to continue to encourage him in his journey of pursuing a better future. I got him some food as he hadn't eaten for almost two days and then prayed with him again before we parted ways into the darkness. Please join me in praying for David that he will stay encouraged on the right path.
For I know the thoughts that I think toward you, says the Lord, thoughts of peace and not of evil, to give you a future and a hope.
God has opened the doors to several divine appointments, and the second story I would like to share happened three weeks earlier while I was in Nicaragua. One morning, Steven Hansen and I were headed to the local store in Pearl Lagoon to get a few miscellaneous supplies we needed for making lunch. We had walked across town and purchased a pineapple and other fruit to keep on hand. As we were almost ready to leave, a tall native man came and struck up a conversation with us. He introduced himself as Ariel, a member of the Awás Seventh-day Adventist church, which is just a short distance east of Pearl Lagoon. He accompanied us home and we had a beautiful conversation aimed at encouraging each other spiritually.
He wanted to study the Bible together, so I shared the inspiration I had gained from my morning devotions that morning. I had been reading in Zechariah about Joshua being accused by Satan in God's presence and the Angel of the Lord orders his sins to be blotted out and new garments being given to him. I found this to be encouraging as I'm not perfect and I make mistakes too. God is willing to forgive when we come to Him and ask for His help. Ariel was encouraged by that and wanted another study session, which we arranged. Shortly after our second study, I left for Costa Rica to learn Spanish. I look forward to meeting with him again once I return to Nicaragua.
The learning continues:
After getting things settled and Pearl Lagoon, I realized that I needed to know Spanish better to be effective as an air ambulance pilot. The Miracle Air team plans to fly medical emergency flights to very remote villages along the Caribbean coast,  transporting patients to the hospital. These indigenous villagers do not speak English and use Spanish as their trade language. I had spent some time learning Spanish online before visiting Nicaragua, but I wasn't as fluent as I felt I needed to be. 
I found a house and participated in several governmental meetings about bringing the plane into the country. After things started to settle down, the MiracleAir team and I agreed that it was a good time for me to get more formal Spanish training. I was accepted to study at The Spanish Language Institute in Costa Rica for their five-week intensive Spanish course.
Armed with the excitement of learning Spanish, I traveled 7 hours to Managua, Nicaragua. The next morning, I made my way to the bus station with my passport in hand and took the 13-hour bus ride to San José, Costa Rica. While on the bus, the driver rattled unintelligible phrases about places we were close to or instructions about what was ahead. Everyone else understood him, except me. I had difficulty understanding anything and became increasingly thankful that I wasn't getting off until the last stop. I don't think I would have known where to get off otherwise.
From the moment I met my "Tica mom," who was arranged by the institute, I knew I was unprepared for what was coming. Josepha only spoke Spanish, and even though I had previously been introduced to some of the basic structure and some useful words, I found myself immersed in a world in which I didn't know how to communicate. It was frightening to be so far out of my comfort zone but I understood it was the best way to learn. 
My first day in class was a unique experience. I tried my very best to understand and communicate, but it took its toll. I quickly started to get brain fatigued. Taking an intensive course takes a lot of mental energy, but God has been blessing my time. I made numerous friends from school and I'm thankful for the community here. 
Within a week I looked back and realized how far I had come in my understanding. In class, we had covered the basics and successfully laid a foundation on which to add nouns, adjectives, verbs, and sentence structure.  The second week my milestone was being able to customize a Subway sandwich order -- in Spanish. The third weekend I was able to communicate in basic sentences and make a solo trip to Jaco beach in western Costa Rica. It has gone well and I'm excited to be here! I am finally feeling like I can begin to communicate in Spanish. But I also realize that I have only started and that there is much more to learn!
An update from Nicaragua!
Progress continues in Nicaragua while I have been studying in Costa Rica. The Hansen family has established a positive relationship with a flight school in Managua where we can acquire aviation fuel, and we are currently searching for the best way to transport larger quantities to the eastern coast. The government has put significant effort into making decent roads but the journey is still a significant obstacle with large quantities of fuel. 
When I finish my five-week course, I plan to return to Nicaragua and continue helping to make the necessary preparations for the airplane. We have looked at numerous sections of land that we may be able to use as our hub for operations. We need a piece of land that has a straight and mostly level section to develop as a runway for land-based airplanes to take-off and land on. We also need water access for a boat ministry. It is important to have easy water access so that MiracleAir can assist with opportunities to the coastal villages and make a huge difference in the community. 
At the beginning of March, our team learned that a new piece of land is becoming available for consideration that looks very promising for an air-base. We are praying that God would lead if this is the property that he has for us. This property has a long straight section that could be developed into a runway, and also has water access in a protected bay not far from Pearl Lagoon. 
I look forward to seeing what God has planned for MiracleAir, as with God's help, we have completed most of the necessary steps before we can fully become operational with an airplane. 
As hard a journey as it has been in preparation for service, I am starting to understand that God isn't ever slow. His timing is perfect and I'm becoming at peace with doing what I can while we wait for His direction. 
Prayer requests:
Please pray for David and Ariel (stories at the top).
For my Spanish Language Institute classmates and my teacher Ana Sylvia.
Pray for the selection of the MiracleAir base.
Pray for permission to be granted for the airplane to be welcomed to Nicaragua soon.
Current Needs:
You have helped make an amazing support community and I am very thankful for your generosity! 
As the team and I have reviewed our ongoing needs, I am needing to triple my recurring support to cover my expenses and help MiracleAir prepare for flight operations. We don't have an exact date for the arrival of the airplane, but during my time in Nicaragua, significant progress has been made and we are eagerly awaiting our plane, the Found Bushhawk's delivery. It has just undergone an extensive overhaul on the engine exhaust manifold and the fluid lines in the floats have been replaced so that the airplane is ready for service. 
Partnering with MiracleAir is easy. We have a new online donation portal that makes Credit Card payments simple. Follow this link to get started.
Thank you for partnering with MiracleAir to save the lost! Together, let's prepare for Jesus to come!
Andrew Hosford