Do you sometimes wish you could see the results of your influence? I know I do. 
I had flown a patient from Basco Batanes to Manilla, and just as I was helping the patient and their family out of the airplane, I was approached by a Filipino student pilot. He introduced himself and told me that he was planning to serve with PAMAS when he finished his training. I had no idea who he was and soon forgot about the unexpected meeting.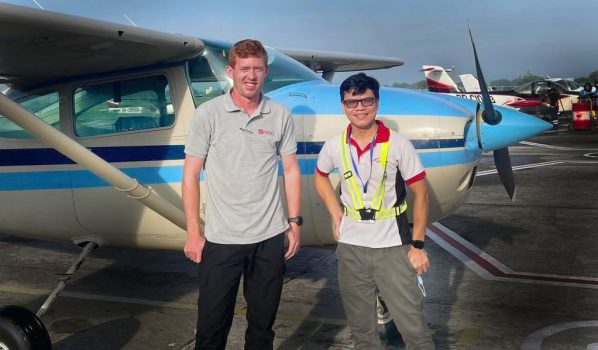 It wasn't long before I started hearing more of the story. My new friend had other roles and had been working with PAMAS for several years as a lawyer.  Recently, he showed up at the Palawan airbase where I have been serving since September. We became better friends and he shared that he was giving up his dream of being a pilot. He had put a lot of time and money towards being a pilot, but now that journey was over.
As he shared his experience with me, I learned that his struggle was in the area of a flight maneuver called Steep Turns. I could see he was discouraged but it seemed he was too close to the finish to give up just yet. I gave him some basic instruction and tips that I found helpful in my training, and not long after, he finally was able to fly the maneuver successfully! 
He passed his flight exams and is now a pilot, and now is looking for ways to build more experience before starting any solo missions with PAMAS. He shared with me afterward that he was glad he didn't give up and was very thankful for my encouragement. 
His story is like a dozen other people that have reached out on social media asking how they can become missionaries or mission pilots. Each time someone asks, I share the journey God has led me on. I share the miracle stories of miraculous ways God has provided funding to get me through aviation classes, and how just at the right times, doors of opportunity would open before me and God showed his hand leading the way forward.  How has your story been an example to others? Looking back, I wouldn't be near as fulfilled working a computer job in the USA as I am now as a missionary with many opportunities to see God working. 
We have nothing to fear for the future, except as we shall forget the way the Lord has led us, and His teaching in our past history.
Miracles still happen!
Your prayers make a difference in my everyday life. Since my last blog post, there have been some large changes in my life. First of all, my paperwork finally came through and I am now a philippine licensed pilot! I was able to schedule a flight exam with one of the check pilots that issues the licenses. I demonstrated a takeoff and then did some basic airwork before returning for landing. After completing the flight, I was issued a temporary certificate and soon afterward, started flying lifesaving missions.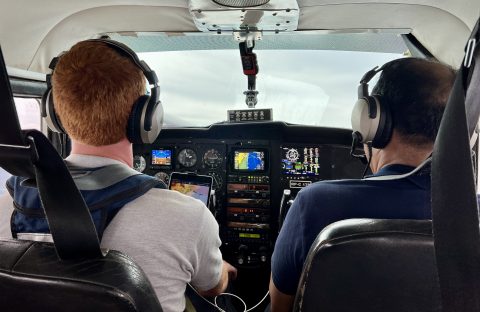 Second of all, I have been trying a platform for more frequent content posting with great success. Many of you have wanted more real-time updates complete with stories and prayer requests. Well, I now have a new way for you to engage with my activities much more regularly! It's in the form of a dedicated Facebook page that you can follow and interact with. I would encourage you to like the page, as it helps you stay connected and also helps the page grow! Viewing my page is also available for non-Facebook users by clicking the link below. 
My life as an example:
I had gotten a call around noon to airlift a patient with severe abdominal pain. The doctor on the small island of Mapun did not have the resources to perform the emergency surgical removal of his appendix.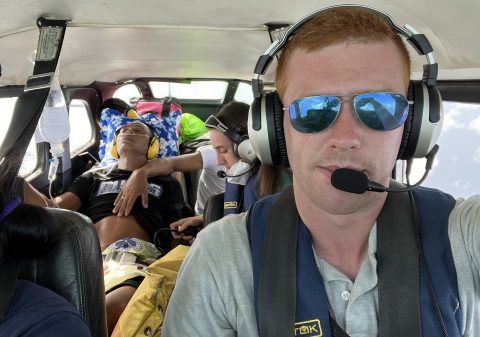 When we arrived to pick him up, we learned his case was additionally critical as a result of unstable vitals. After loading the patient and his relatives, we started our journey toward Palawan where the hospital was. Not long after we landed, the ambulance arrived and started its journey to the hospital. 
Late that evening, I got a phone call from the doctor and she said that the patient was even less stable and couldn't be operated on in his present condition. They asked if I could fly him home the next day to say goodbye to his family. Even with my limited medical knowledge, I realized his condition was serious and he potentially didn't have long to live.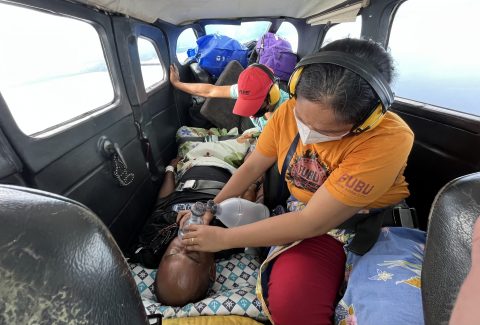 Due to the critical nature of this patient's situation, we were required to be at the hospital for the patient to be released. After finishing the paperwork we needed to do, we mounted my motorcycle and hurried ahead of the ambulance toward the PAMAS base. In my mirror, I saw the ambulance pulling out of the hospital at a rapid pace.
This man in his mid 40's was now in a critical sepsis state and they said he wouldn't live more than a couple of hours. He was so weak he needed to be bagged to help with his breathing. I did my best to get through traffic but it didn't seem safe with all the vehicles on the road leaving town. Not long after, the ambulance came behind with its sirens on, and the traffic cleared. I managed to safely get behind the ambulance and then traffic was easier to navigate through. Despite my best efforts, the ambulance was getting further and further away. I went as fast as I could safely and prayed that I would be able to bring the patient to Mapun before he died.
After about 10 minutes, the ambulance slowed through a dirt section of the road and I was able to pass them and prepare the airplane for their arrival. Gently we loaded the patient and the family climbed in, and after a prayer, we set off for Mapun. It was a smooth flight, and I looked at him with compassion as he lay on the stretcher quietly.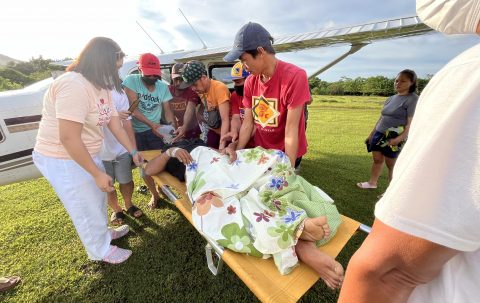 As we landed, an ambulance was waiting, and the medical staff was able to take over his care. I looked at the time and didn't have enough time to make it home before dark. I was sacrificing my comfort to serve this beautiful yet hurting family. I was content. I had done all I could for this man, and even though he didn't have long to live, I was glad to have helped. I learned that he passed away less than ten minutes after I landed in Mapun, while in transit in the ambulance. 
As hard as it was for me to see someone suffer as he did, I find the hope outlined in the Bible very comforting. Jesus likened death to a sleep where the dead are not aware of anything until the resurrection when Jesus returns soon. No more suffering, no more pain. Yet there are billions of people who don't have this same hope from the Bible. Pray for more workers in these dark areas. I can't wait for Jesus to return and end all the sickness and suffering.
Another opportunity to be a blessing:
It was 2 in the afternoon when the phone rang. An emergency had come up on the island of Cuyo with a woman in labor. She had been laboring for a while, her water had broken, and then for a time, there was no progress in the birth. This is a dangerous stage in a mother's and baby's life where there is a significant risk of infection. With very little amniotic fluid, the baby can't effectively regulate its temperature and I quickly realized the serious nature of this flight request.
The nurse in Cuyo was coordinating the transfer to the hospital in Puerto Princesa but there was a delay in getting confirmation of the patient's acceptance.
While we waited to hear back, I filled the airplane with fuel, and as I looked at the weather and route, I knew we didn't have any extra time if we were to arrive in Puerto by sunset. We called the controllers in Puerto and were reminded that to fly after sunset and be cleared for an approach into Puerto, I would need to be on an instrument airway at 11,000 feet. Without cabin pressurization and engine turbochargers, it's not practical for general aviation planes to fly that high. 
We called again and they offered that with an exception, we could start the arrival and subsequent approach at 8000 feet as long as we reached a specific waypoint by 5:56 which was the official sunset time. I knew it was tight but I felt if we hurried it would be possible. 
Finally, after all the preparations were completed, and the patient was finally accepted to transfer to the hospital, we had eight minutes to my personal go/no-go cutoff time. Our flight nurse and I quickly climbed in and took off for the two-hour flight to Cuyo. 
As we left the mainland behind, we were met with gorgeous deep blue water interrupted by small coral reefs and islands. Soft little clouds hovered over a couple of the islands along the route and the ocean was calm.  
As we got closer, we prepared the cabin for landing. We landed in Cuyo just before our estimated time and almost immediately the nurses started transferring patient information as I helped load the patient and got everyone situated. It was a race against the remaining daylight and I knew it was tight.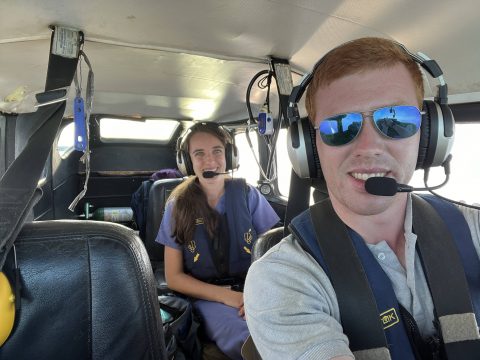 After the patient was loaded, I prayed and worked efficiently through the checklists and took off into the sunset. As I climbed and gained speed, the GPS showed the destination time counting down. In the process, we had made up about 10 minutes and now our eta matched sunset time exactly. Every minute or two I was thanking the Lord for helping us to be efficient and for giving us the right tailwinds so that we could arrive in Puerto before sunset.
As we got closer, the controllers were doing everything they could to help us. The patient's oxygen started dropping during cruise flight and that limited us to leveling off at 6500 feet above the ocean. Puerto gave us landing priority and even had a passenger airbus start holding in an oval pattern while they cleared our small medivac for the approach. I was able to see the runway and I guided the airplane on the approach path.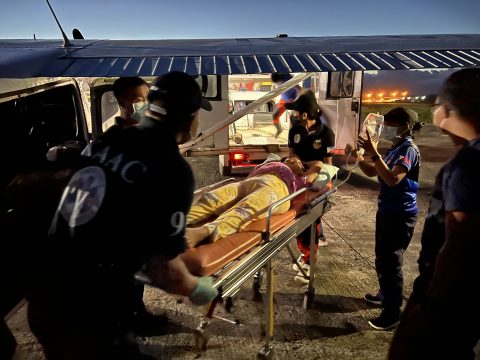 Shortly after we landed, the ambulance pulled up and loaded the patient and then departed for the hospital. 
The next day, I learned that a healthy little boy was born. The family was so grateful for my help that they wanted to call him Andrew in my honor. I was just so happy to help and I even got to see the results of my service. My goal is to fly these people with excellence and care and I hope that they see Jesus in my example.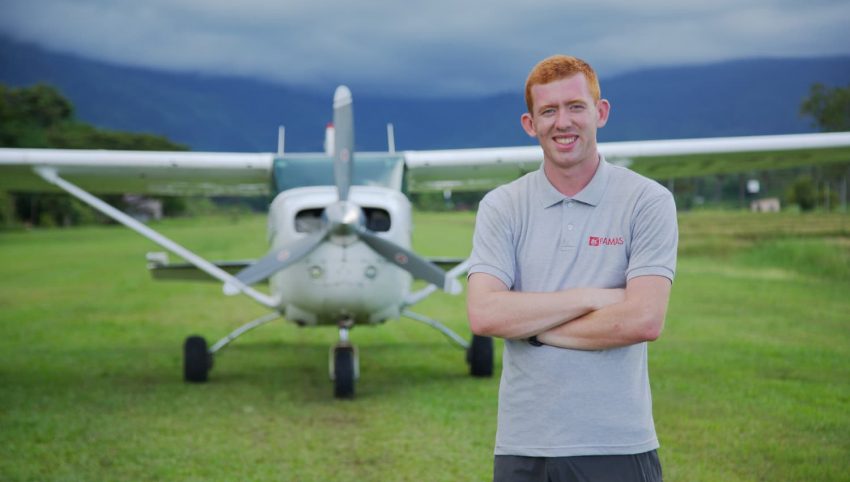 Thank you to each of you for your prayers and generosity! I have been able to focus on the mission in front of me knowing you are praying and supporting me. You are like the wind under my wings! 
Since transitioning to the Philippines in June to fly with PAMAS, God has provided countless opportunities for me to witness and be a blessing. I have transported and prayed with 830 people and flown over 170 medivac flights. All of this is possible because God has impressed some of you to partner with me financially. Some of you aren't able to give, and I want to thank you for participating and praying for me. Prayer is so powerful and I know most of you have no idea how much each prayer means to me, but I read each of your comments on social media and I am overwhelmed at how awesome this mission community is! Thank you so much for being a part of it!
If you would like to join my flight crew and support what God will do through me this next year, follow the link below.
I look forward to Jesus coming, which I believe is very soon. I'm so excited to do my part to bring hope and healing to these isolated people. Join me and pray for these people who I have the privilege of serving.
Andrew Hosford